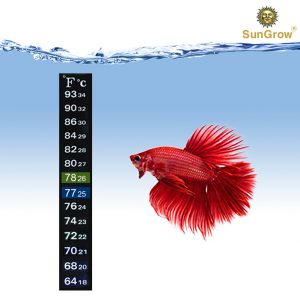 List Price: $11.15
Item Price : $9.45 Check Price
Item ASIN: B07NTX8M7L
Top Feature :
It Displays The Precise Temperature Level Of Your Aquarium!
Note: The sticker thermometer by SunGrow should be stuck outside your betta tank away from any heat source such as light bulbs or heat pumps. This ensures you receive the most accurate reading and can adjust your water temperature accordingly.
Item Description:
MEASURES TANK TEMPERATURE FOR PROPER & CONSISTENT MONITORING.
Maintaining an aquarium tank with pets means having to actively measure the temperature of their living environment. Always being aware of its correct hotness or coldness level can make you do necessary adjustments to ensure that it is consistently ideal for your pets. Aquarium Sticker Thermometer by SunGrow will help you determine if your aquatic pets are living in a suitable environment condition.
HELPS PROTECT YOUR AQUARIUM PETS FROM DISEASES AND DEATH.
Fish and amphibians are highly sensitive even to a slight change in temperature. It is a must to keep their surroundings as close as possible to their natural habitat. An inconsistent aquatic environment can cause bettas, turtles to be stressed, sick or even die.
AIDS IN REPRODUCTION & LONGER LIFESPAN.
Cold-blooded species change with the temperature of their surroundings. Keeping it right along with proper nutrition can triple their lifespan. Any big difference from the ideal will directly affect the breeding process. It also affects their growth development, activity levels and overall wellness.
EASY MONITORING OF TEMPERATURE WITH 2-COLOR INDICATORS.
It's time to stop the guessing game of aquarium temperature because this handy sticker thermometer will give you the precise range of your tank's temperature with 2-color indicators. Blue color depicts the exact temperature. When you spot both Green and Blue colors on the strip, it indicates that the temperature is between them.
NO SUCTION CUPS OR BATTERIES NEEDED.
This self-adhesive strip can be installed in two easy steps: Peel & Stick! No need to worry about suction cups or batteries and experience a worry-free monitoring. Measuring 5.1" tall by 0.7" wide, it can read a temperature range between 64 and 93 Degree Fahrenheit / 18 and 34 Degree Celsius. Please note that Fahrenheit is in big bold letters and Celsius is in small.