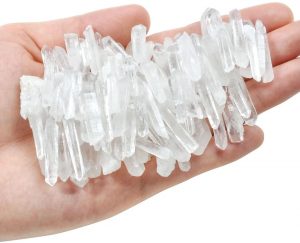 List Price: 17.99
Item Price : $15.99 Check Price
Item ASIN: B06XXH3MX5
Top Feature :
Clear Quartz Crystal is of the spiritual world that is sensed but not seen. White crystals are guides when we don't know where we are going. They are the guides to understanding and knowledge that we don't even know exists. Clear Quartz is the most powerful healing stone on earth.
Item Description:
Size: approx: 0.39-1.18"/pc 25-35 Piece Lot Average (may vary – average only) Weigh: 0.44lb(200g) Variety of shapes, sizes due to natural raw stones.
Rough/Raw clear quartz crystal points shards raw stones. Good for crystal tumbling, cabbing, cutting, polishing, wire wrapping, wicca, divination and reiki healing.
They can be also put in your fish tank, flowerpot, garden for home decor.
Perfect gift: Come with a black gift box and a Top Plaza velet pouch, makes it a perfect gift for friends in holidays.
100 % natural matte finish rough rock crystal quartz and high quality guaranteed. 90 days money back guaranteed. You can ask for refund or replacement within 90 days after you receive it if you are not completely satisfied with the product. We value every customers.