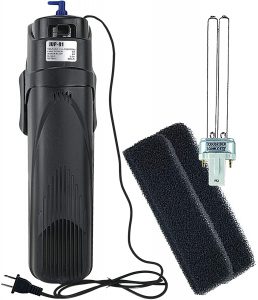 List Price: $59.99
Item Price : $48.90 Check Price
Item ASIN: B07DFR6CRQ
Top Feature :
Say farewell to dirty fish tanks – this accessory helps fight bacteria and algae to help the water stay clearer for longer resulting in crystal clear water for your fish so they remain healthy!
Item Description:
Keep your fish healthier and tank clearer with an advanced UV system for your aquarium – the UV light biologically cleans the water in your tank!
When you need to control the bacteria in your fish tank and want to safely eliminate algae, improve clarity, and keep fish healthy, you need this accessory.
This in-tank UV system helps remove impurities by using proven UV light technology and preventing growth of unwanted microorganisms. And because installation is quick and easy, you can add it to almost any tank to make aquatics easier and more enjoyable.
Important Note After receiving the product, must remove the shock-proof sponge inside the product before using it. (For detailed steps, please see the third product picture in this product page)
Warm Prompt Because this product contains a small motor inside, used to drive water circulation, so when it without water to work, it will make a loud motor empty work sound, but as soon as it is put into water, the sound will disappear. In addition, in order to ensure the machine have best performance, we have checked all the machine (in water) before shipment, so after receive the machine, it may be wet inside, please do not worry, it is brand new.
4 Function in 1 Machine water pump(adjustable) + air pump + filter + Clean, can directly use in the fish tank, No other connection requirements. 【 Product Size 】: 12″ L X 3.3″ W X 3.75″ H, Cord: 4.6ft. Flow rate: 210 gallon per hour, suitable for tanks up to 80-gallons.
Warm Tips: in order to maintain the best cleaning effect, recommended to inspect the machine every 1-2 weeks: open the out casing, 1. clean filter sponge, 2. check whether bulb work well, 3. check whether have water entered the quartz glass cover, due to the bulb generates heat during operation, it may cause slight water in to the quartz glass cover after a long time. if there is a slight Water into the glass cover (without affecting the bulb), just draining the water is OK)
1 Year Warranty – If you have any questions or problems, please contact the service email box on the package, we will solve and reply in 24 hours.